Schools make broad and significant contributions to student health, including providing healthy school nutrition programs, engaging students in physical activity, and providing a strong health and physical education curricula as is ensured by Virginia 2020 Standards of Learning. Utilizing Health Smart Virginiau2019s topical search function, visitors can access numerous lesson plans and ideas. Broader environmental reinforcement of healthy behaviors and lifestyles is additionally critical, through the implementation of local school wellness policies, school employee wellness programs, and school health guidelines.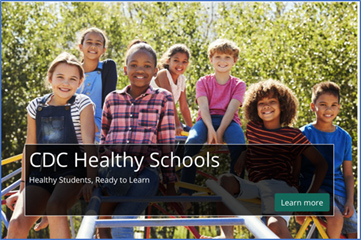 CDC provides three tools, the School Health Index, the Physical Education Analysis Tool (PECAT), and the Health Education Analysis Tool (HECAT) to enable schools to self- assess the strengths and weaknesses of their policies and practices and to develop action plans for improvement.
https://www.cdc.gov/healthyschools/index.htm
Additionally, a useful model to show the interrelationship of 10 components that schools contribute to a healthy child is the CDC framework: the Whole School, Whole Community, Whole Child, or WSCC Model. CDC describes WSCC as a student-centered framework that emphasizes the role of the community in supporting the school, the connections between health and academic achievement and the importance of evidence-based school policies and practices." The 10 components of the model are: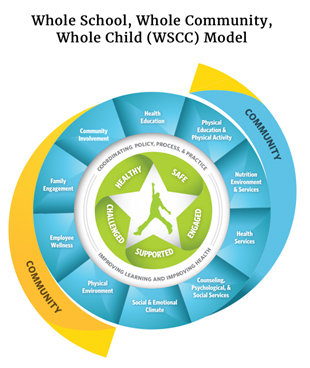 Physical education and physical activity.
Nutrition environment and services.
Health education.
Social and emotional school climate.
Physical environment.
Health services.
Counseling, psychological and social services.
Employee wellness.
Community involvement.
Family engagement.
CDC offers downloadable PDFs and graphics with examples of evidence-based strategies and promising practices for using the WSCC framework to promote student health while students are in and out of school. CDC also offers a WSCC virtual school to further assist K-12 school staff, staff in state and local departments of health or education, and agencies to meet the needs of the whole child. CDC also offers e-learning modules for Comprehensive School Physical Activity Programs, school physical activity guidelines and guidebook, school recess planning and strategies and a curriculum for engaging parents in efforts to have a healthy school. An additional resource for engaging parents and families in providing healthy nutrition for students outside of the school environment, Virginia Cooperative Extension provides a Family Nutrition Program to teach limited-resource families and youth how to make healthier food choices through programs that focus on basic nutrition, physical activity, safe food handling, and thrifty food shopping.
Additional Resources for Healthy Students
ACSD Healthy School Communities
Collaborative for Social Emotional Learning (CASEL)
Kaiser Permanente Thriving Schools Resource Center
SHAPE Teacher's Toolbox for Health and PE
SHAPE America Strategies for Recess in Schools
VDOE Family Life Education
VDOE Health Education
VDOE Physical Education
VDOE Driver Education
VDOE School Health Services
Virginia Department of Health
VDOT Safe Routes to School (SRTS) Program
VDBHDS Office of Behavioral Health Wellness